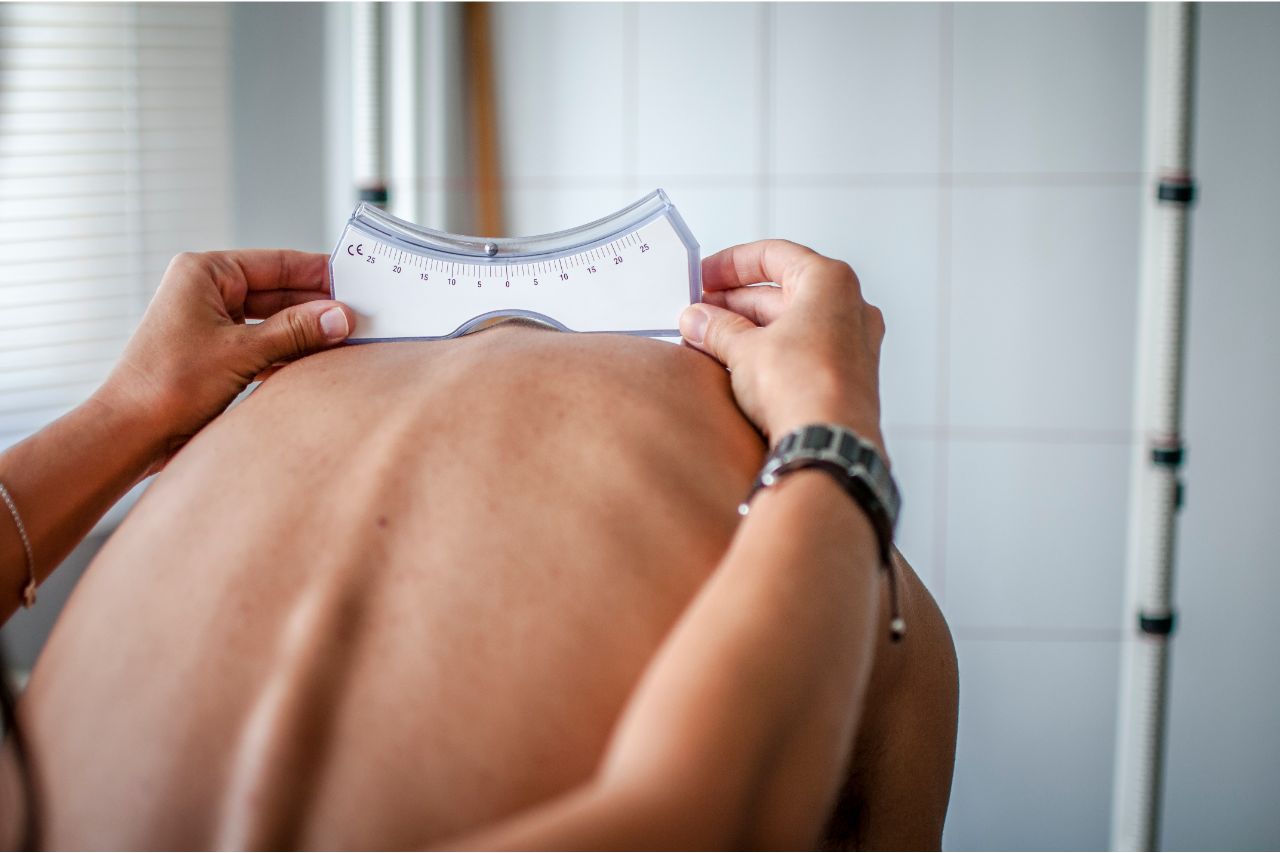 Schroth Method Exercises for Scoliosis
What is Scoliosis? 
Characterised by a side-ways curvature in the shape of an 'S' or 'C', scoliosis can affect people of all ages. The most common form is idiopathic scoliosis, meaning the cause is unknown. Adolescent idiopathic scoliosis (AIS) affects children between the ages of 10 and 18, with the onset often occurring around the time of puberty. There is a much higher prevalence in females compared to males (more than 6 times).
You may observe the following signs in a person presenting with scoliosis:
A more prominent shoulder blade on one side
One hip is higher than the other, or more shifted to one side of the body
Uneven waist angles
When bending over, a hump present over either side of the back
Risk factors that increase the chance of scoliotic curve progression in a child with AIS:
A younger age of onset, such as below 10 years old
Moderate/severe scoliosis with a significant amount of growth remaining
Positive family history of moderate/severe scoliosis
While most cases of scoliosis are not severe enough to necessitate surgery, which is considered if the child has a curvature beyond 45-50 degrees and has significant growth remaining, or if the condition has progressed to affect cardiopulmonary functions due to structural deformity in the ribs and spine. It is evidence based practice for physiotherapy scoliosis specific exercises (PSSE) to be done in conjunction with bracing to achieve the best results for curvatures under 25 degrees as a first-line management.
What are PSSE/Schroth exercises for Scoliosis?
The Schroth Method is a form of PSSE treatment technique that focuses on correcting the posture and spinal alignment in people with scoliosis. It is a non-invasive treatment option for scoliosis that is taught based on your unique spinal curve pattern. The aim is to improve spinal stability by using a three-dimensional approach to correct imbalances in the trunk caused by the spinal curvature.
The benefits and goals of PSSE exercises include:
Improve postural awareness and appearance
Promote correction of spinal alignment in a three-dimensional manner
Increase strength and endurance of the core musculature
Relief any pain and discomfort
Complement bracing regime
Improve lung function
Improve quality of life
PSSE exercises are widely studied and used among clinicians worldwide to treat scoliosis. It is an evidence based method that helps to halt the progression of the scoliosis curvature, especially when combined with bracing for children with AIS. If you or your child is diagnosed with scoliosis, our clinician will be able to help you to address your concerns with a tailored session.
Physical Therapy versus Schroth Exercises for Scoliosis
Unlike common physical activities, Schroth exercises and stretches are deliberate intervention options for scoliosis that is taught based on your unique spinal curve pattern. The aim is to improve spinal stability by using a three-dimensional approach to retrain and correct imbalances in the trunk and ribcage to rectify spinal curvature. This makes it a more comprehensive treatment approach to managing scoliosis.
Multiple studies have been conducted on the effectiveness of the Schroth Method, with several cohort studies reporting positive outcomes. These include significant improvements in back muscle strength, breathing function, and a reduction in the angle of spine curvature.
Notably, the Schroth Method was also found to be beneficial in reducing pain and enhancing a patient's self-image compared to when standard care was prescribed.
Take Control of Your Scoliosis with Rapid Physiocare 
As with any intervention, receiving prompt treatment is crucial in preventing the progression of scoliosis and minimising any negative impact it may have. If your child appears to be suffering from scoliosis, it is time to seek help from a professional.
At Rapid Physiocare, Here at Rapid Physiocare, treatment sessions are individualised and conducted one to one. Our experienced clinician will be able to help you by first assessing and understanding your condition's history and presentation. Applying the PSSE principles is exclusive to each individual and will require a comprehensive treatment plan.
Find relief from scoliosis today with Rapid Physiocare. Reach out to our team or drop by our new clinic at Tanjong Pagar to schedule an appointment now.