Frozen shoulder
Having a frozen shoulder is one of the long and painful nightmares you will ever had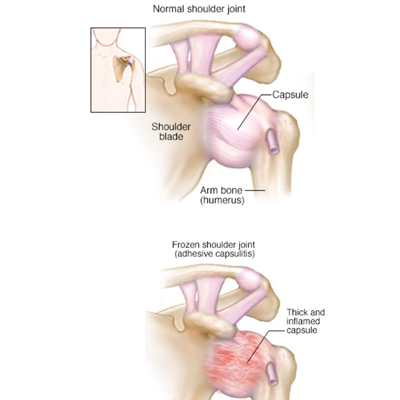 Frozen shoulder, also called adhesive capsulitis , is a common disabling but self-limiting condition, which typically presents in three stages and ends in resolution. Frozen shoulder is classified as primary (idiopathic) or secondary cases. The aetiology for primary frozen shoulder remains unknown. It is frequently associated with other systemic conditions, most commonly diabetes mellitus, or following periods of immobilisation e.g. stroke disease.
Frozen shoulder is usually diagnosed clinically requiring little investigation. Management is controversial and depends on the phase of the condition.
Frozen shoulder typically moves through 3 stages, with each stage lasting a number of months, and is slow to resolve.
This stage is characterised by more pain than stiffness. Small movements of the shoulder are painful and there is a gradual loss of range of motion as pain increases. Can last 6-9 months.
During this stage, one will experience more stiffness than pain. Use of the shoulder becomes increasingly difficult as the joint stiffens. Pain may be more tolerable in this stage. Daily activities become increasingly difficult. May last 4-6 months.
In this stage, the shoulder stiffness begins to ease and range of motion and pain levels improve. A full return of mobility and function may take 6 months to 2 years.
Let's have a talk about a few frozen shoulder facts and myths.
Certain groups of people are more prone to frozen shoulder pain.
YES, according to a study, the age group of 40 and 60 are more prone to this ailment. Women and diabetic are also more susceptible as compared to the rest of the population.
Physiotherapy can help to relieve pain and regain movement.
YES, Physiotherapists can prescribe exercises to restore mobility by gently stretching the shoulder. Applying heat to the shoulder can make these exercises more comfortable, as heat can help relax the surrounding shoulder muscles.
Steroids injection can effectively cure Frozen Shoulder.
NO, steroids injection can only make the symptoms go away, and can provide some relief from frozen shoulder symptoms for several weeks up to a few months. but it will not treat the problem completely.
Frozen shoulder pain takes more than 1-2 years to completely go away.
NO, with physiotherapy, the recovery time for frozen shoulder can be decreased from 2 years to as little as 6 months.
While the exact cause of frozen shoulder isn't known, it can be easily and effectively treated to reduce pain and stiffness. Seeking care can reduce recovery time significantly allowing you to get back to everyday activities.