Pilates is a form of low-impact exercise which emphasizes on proper postural alignment, core strength, and muscle balance. Pilates promotes flexibility while maintaining strong muscular and postural strength.
It was discovered by Joseph Pilates in the 1920s to optimize physical fitness in people at every level of physical ability. It requires concentration and focus, to control the body through precise movement. Each exercise has a specific placement, rhythm in sync with every breath.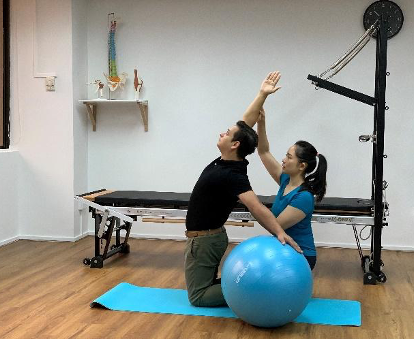 There are various benefits of Pilates, to name a few:
Increases flexibility
Promote balanced muscular and core strength
Improves posture awareness
Improved physical coordination and balance
Generally, increases muscular strength and toned body
Pilates is designed for everyone, from beginner to advanced. Although flexibility is an inherent part of Pilates, it can be improved with sufficient effort. Pilates can be customized to suit each individual's flexibility.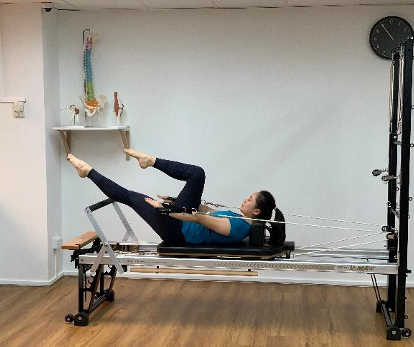 Pilates @ Rapid Physiocare
Here at Rapid Physiocare, our Pilates sessions are structurally grouped in pairs to provide exclusive attention during the workout. You may need to start with 1:1 sessions to build on the basics before moving on to group sessions.
Sessions are supervised by our Physiotherapists and Rehab Therapists, customised individually to cater to each individual based on your fitness level. Specific and detailed instructions will be given to provide acute feedback critical to optimize your performance in the mastery of the art of Pilates. Pilates would be safe for people with various injuries and disabilities including individuals in rehabilitation for joint and spinal injuries.
Conditions which can benefit from Pilates:
Lower Back
Degenerative Disc Disease
Lumbar Discogenic Pain
Lumbar Radiculopathy
Lumbar Spinal Stenosis
Lumbar Spondylosis
Spondylolisthesis
Lower Crossed Syndrome
Sciatica
Scoliosis
Mechanical Back Pain
Upper Back
Kyphosis
Upper-Crossed Syndrome
Shoulder
Rotator Cuff Injury
Frozen Shoulder
Shoulder Instability
Shoulder Bursitis
Supraspinatus Injury
SLAP lesion
Shoulder Impingement
Lower Limb
Hamstring Strain
Hip Osteoarthritis
Piriformis Syndrome
Lower Crossed Syndrome
Groin Strain
Knee Osteoarthritis
Patellofemoral Pain Syndrome
Chat with us on www.rapidphysiocare.com or call +65 6904 4900 to enquire about our Clinical Pilates service and how we can help you to move freely and live better.