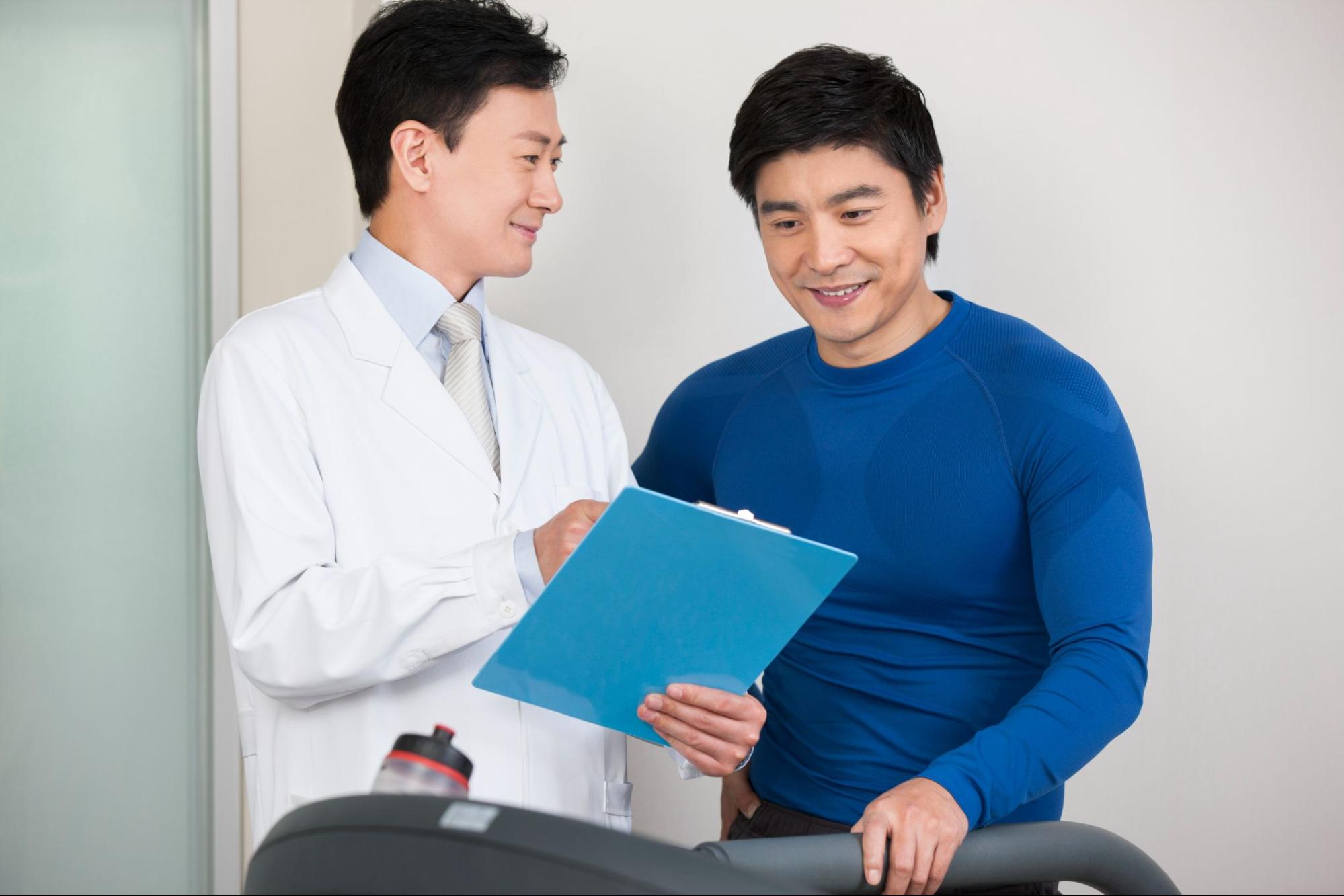 Why Consider a Cardiac Rehabilitation Programme?
Heart disease is one of the leading causes for hospitalisation and death all over the world and accounts for nearly one out of three deaths in Singapore. If you or your loved ones have had a heart attack, heart bypass surgery, or a procedure to open blocked arteries, your cardiologist may have recommended a cardiac rehabilitation programme. You must be wondering, should I seek expert medical help? Or can I decide on my own training programme to kickstart my exercise journey again?
In this article, we'll explain what cardiac rehabilitation is and why you should consider enrolling in such a programme. 
What is Cardiac Rehabilitation?
Cardiac rehabilitation is a medically supervised programme designed to improve your cardiovascular health and lifestyle changes to reduce your risk of future cardiovascular related health events. Depending on individuals, the programme usually lasts for 12 to 20 weeks or longer. 
During cardiac rehabilitation, a team of multidisciplinary professionals will work together to improve your physical, psychological, and social functioning. This process typically consists of four phases. Kindly read through the aforementioned article first to have a better understanding of the various phases of cardiac rehabilitation. The first phase occurs in the hospital after your cardiac event, and the remaining three phases occur in a cardiac rehabilitation centre or your home after you are discharged from the hospital. While the journey to recovery varies between patients, these four phases are the standard regimen for patients recovering from a cardiac event.
Benefits of Cardiac Rehabilitation
Studies have shown that cardiac rehabilitation increases the chances of surviving in the five years following a heart attack or heart bypass surgery by about 35 percent. You will be expecting to  work with a team of trained cardiopulmonary physiotherapists, exercise specialists, dieticians, nurses, and psychologists to get yourself back in the groove.
You know when to progress in your exercises and how hard you can go.

With this being a medically

supervised programme

, your specialist will develop a safe workout plan for you, and this will start from a pace you are comfortable with. And as you become more comfortable with exercising, you'll be tasked to gradually increase the intensity and duration of your workouts. 
In addition to exercise, the education portion of cardiac rehabilitation helps you better understand your cardiovascular disease and what you can do to manage it. You'll learn how to make lifestyle changes that can improve your heart health. This will include quitting smoking, monitoring of your blood pressure, the importance of taking your heart medications as prescribed, eating a hearty and healthy diet, managing stress, as well as making sure that you get enough sleep every night. These lifestyle changes can help reduce your risk of having another cardiac related health event in the future. For those who have had a heart attack or are recovering from a heart bypass surgery and plan to get back to fitness, a certified cardiac rehabilitation programme is a great way to resume exercising in a safe and effective manner.
Last but not the least, counselling services are available to help you cope with the psychological effects of having a cardiovascular disease. Through cardiac rehabilitation, you'll learn how to cope with stress and depression. As you receive education, support, and guidance, you are empowered to learn how to better manage your emotions and make lifestyle changes that can improve your mental health. Additionally, cardiac rehabilitation can provide a sense of community and support for those who may be feeling isolated or overwhelmed. 
Optimise Your Recovery with Rapid Physiocare
Cardiac rehabilitation is an important part of recovery for many people who have experienced a heart attack or other cardiovascular related health event. With proper cardiac rehabilitation from trained cardiopulmonary physiotherapists, you can improve your heart function and reduce your risk of having another cardiac arrest in the future. If you or someone you know has experienced a heart attack of late, know that you're not alone and that there is help available. 
At Rapid Physiocare, we understand that after a heart bypass surgery, you might be feeling anxious as to how you can recover as quickly and efficiently as possible. With our dedicated cardiopulmonary physiotherapy for patients who have undergone major surgical procedures such as heart bypasses or valve replacements, you can rebuild your strength and fitness and resume your daily activities once again. Our trained staff are here with you every step of this journey together; as they help answer any questions about post-surgery care needs. Should you have any questions, feel free to contact us by phone or email.