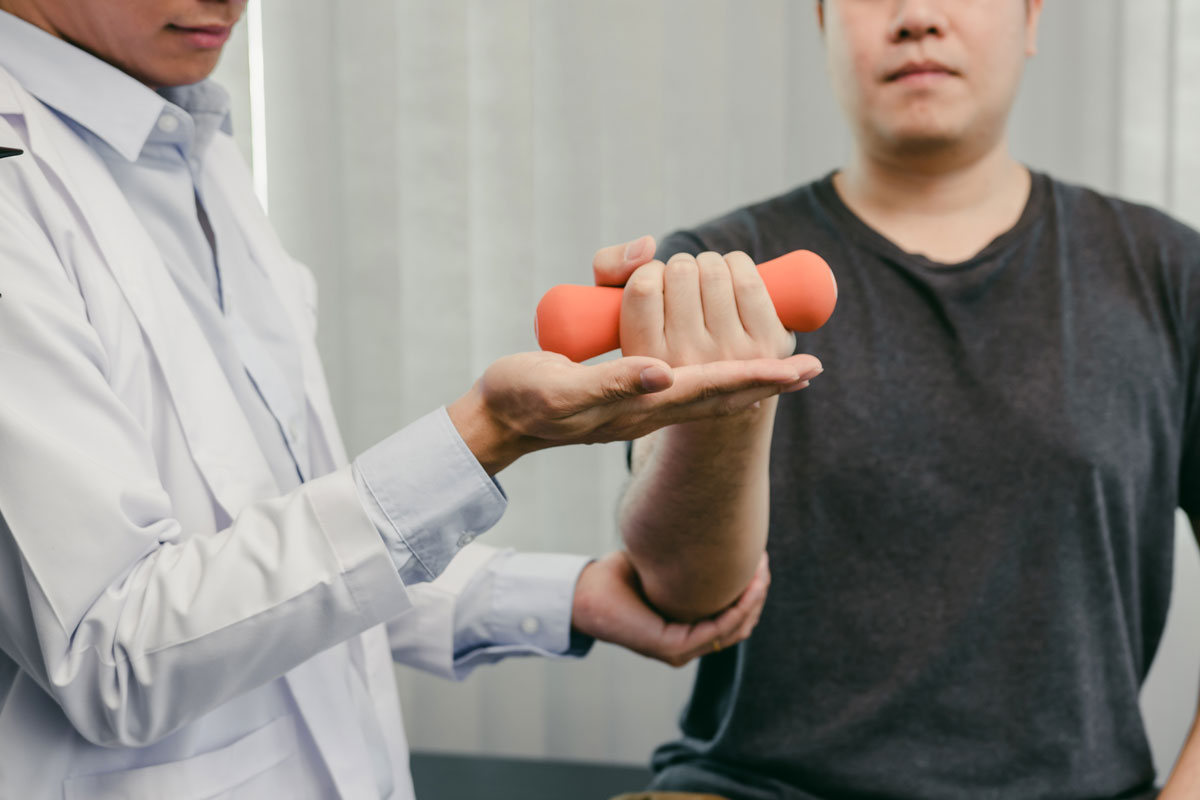 What Does a Sports Physiotherapist Do
Since the easing of Covid-19 pandemic restrictions, Singaporeans have shown a growing interest in sports. Following this trend, sports-related musculoskeletal conditions and injuries are likely to increase in prevalence. This in turn shines the spotlight on the importance of sports physiotherapists. Professionally trained to assess, diagnose, and treat a wide range of sports injuries, a physiotherapist plays a vital role in helping professional athletes and casual sports enthusiasts alike recover quickly and prevent future injuries. However, misconceptions about what a physiotherapist does often hamper individuals from seeking treatment, causing them to put up with the pain from an injury longer than required. In this article, Rapid Physiocare debunks three common myths about physiotherapists.
Myth 1: A Physiotherapist Will Stop Me from Doing Exercises
When you experience a sports-related injury, it is intuitive to think that your sports physiotherapist will stop you from exercising. Contrary to this belief, exercises are usually encouraged in physiotherapy. However, depending on the extend of injuries, professional advice can come in handy when it comes to determining the frequency, intensity, intervals and load of the training after injury.
Rehabilitation exercises can be categorized into a few subgroups, such as stretching exercises, mobility exercises, strengthening exercises, endurance training, balance and prioprioceptive exercises etc. For example, range of movement exercises helps to reduce swelling, improve your joint mobility as well as promote blood circulation. It helps to enhance your body function and performance at the initial stage of injury. Consequently, the other form of training supports your swift recovery and enables you to continue to live an active lifestyle, which is the goal of physiotherapy treatment.
Meanwhile, workouts that build up your strength and flexibility play an integral role in preventing reinjury, which addresses the injury prevention aspect of physiotherapy. Nonetheless, any exercises prescribed will be modified based on your body condition and needs, as well as tailored to your personal goals. Your physiotherapist will also run through the training programme with you to ensure you know how to exercise correctly without putting your body at risk.
Myth 2: A Physiotherapist Only Prescribes Exercises
Among the many misconceptions, another popular belief is that a sports physiotherapist is not responsible for any other aspect of your sports injury beyond prescribing exercise plans. While exercise and getting your body to move again is indeed a significant part of sports physiotherapy, it is by no means the sole duty of a physiotherapist. In fact, physiotherapists take a holistic approach to managing your health. Beyond addressing your physical condition, their work involves restoring your quality of life and independence. That is why physiotherapies may include teaching skills to cope with stress so that your emotional well-being is also addressed.
Myth 3: Physiotherapy is Unnecessary
To the untrained eye, specific therapies, such as prescribing exercises, may appear to be simple treatments, making it easy to question the professionalism of sports physiotherapists. However, this cannot be further from the truth. Physiotherapy sessions are carefully planned treatments based on research and best practices to support you in regaining optimal functioning as quickly as possible. To become authorised practitioners, physiotherapists are also subjected to stringent requirements. For instance, physiotherapists in Singapore must be registered with the authorities and have the relevant qualifications for their profession. Often, physiotherapists are also required to complete continuing professional development programmes annually to ensure that they stay on top of the latest clinical standards.
Receive Sports Physiotherapy from Experts at Rapid Physiocare
With the wide availability of pain relief patches and pills in the market, it may be tempting to self-administer treatments for minor injuries such as strains and muscle pain. However, without proper medical attention, your condition can potentially worsen and result in new problems or become more difficult to treat in the long run. Thus, it is always recommended to seek professional care from trained specialists. As a leading physiotherapy centre in Singapore, Rapid Physiocare endeavours to deliver the highest standard of care so patients can return to their active, healthy lives quickly. That is why we offer a comprehensive range of services to manage your sports injuries, such as sports physiotherapy and rehabilitation and clinical pilates. Our SME 500 Award demonstrates our commitment to honing our craft to deliver the best treatments at all times. Reach out to our team today and let us work with you to create a plan tailored to your treatment goals.