Antenatal / Postnatal Care
Physiotherapy can play a vital role in the prevention and management of the physical discomforts and problems that can arise from the way our body adapts and changes during pregnancy (Antenatal) and after childbirth (Postnatal).
Often, the specifics of Antenatal and Postnatal musculoskeletal (MSK) changes and issues are not addressed as part of your routine ante and post-natal classes. Our Women's Health Physiotherapists are highly trained professionals with in-depth knowledge and skills to address MSK and women's health issues as they may arise during and after pregnancy.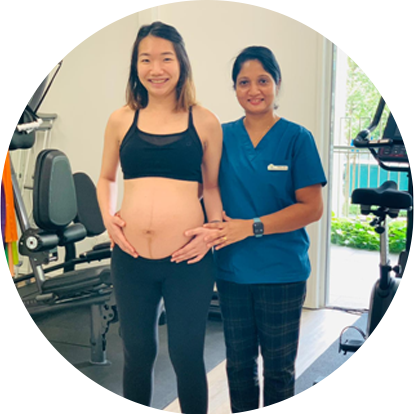 Common physical problems experienced during pregnancy include low back pain, pelvic pain, upper back pain, rectus diastasis, carpal tunnel, bladder urinary incontinence.
Postnatally, back and pelvic problems can continue due to soft tissue and joint changes that have occurred during pregnancy, and due to the continued presence of relaxin in the body during the post-delivery period and whilst breastfeeding.
Our Women's Health Physiotherapists can help you with:
Advice and education on posture, back care, lifting and carrying your baby, and how your body changes both during and after pregnancy.
Alleviate joint pains, for example, back and pelvic pains associated with pregnancy and following childbirth, using core stability training programs designed to help support the spine and other joints.
Provider Manual therapy (Massage/soft tissue release/joint mobilization) for tight/overactive muscles and painful joints particularly around the spine and pelvic region, in response to the altered body shape and abdominal weakness.
Pelvic floor strengthening to help support the uterus, help with urinary incontinence, and facilitate an easier labor experience.
Physiotherapy can help to provide a healthier and more enjoyable pregnancy experience, a safe and speedy return to 'normal' so that you can enjoy your baby and your experience as a new mum.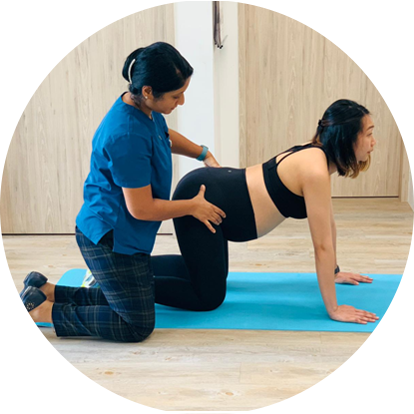 Want to learn more about your pregnancy, the issues that may develop, and how exercises can help? Our Antenatal Care classes cover a range of topics including:
Learn about pregnancy-related changes in your body/posture/common problems (i.e. low back pain, groin pain, incontinence) faced during/after pregnancy
How exercises can help with your pregnancy, prevent/resolve pregnancy-related problems
Stages of labor and your husband's role in postnatal care
Course Structure: 3 sessions of 45mins Group classes (1:1 available upon request)
At Rapid Physiocare, we are experienced in educating new mums and mums-to-be about what to expect as your bodies continually change throughout your pregnancy, and we can advise on how to deal with any physical problems as they arise.
Chat with us on www.rapidphysiocare.com or call +65 6904 4900 to enquire about our Antenatal Classes or how our Women's Health Physiotherapists can help alleviate your pain.