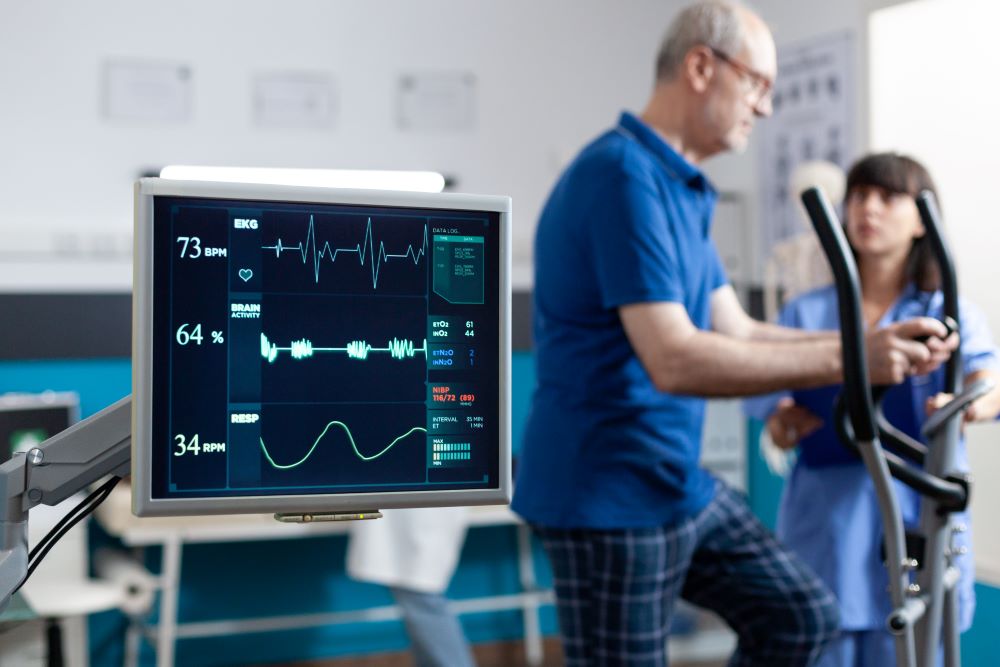 Introducing Cardiopulmonary Expertise in Rapid Physiocare – What is Cardiopulmonary Physiotherapy?
Cardiopulmonary physiotherapy is a sub-specialty that specialises in treating patients who suffer from cardiopulmonary disorders, such as conditions pertaining to their circulatory (e.g. heart) and respiratory systems.
Additionally, cardiopulmonary physiotherapy can also effectively manage the potential worsening of any medical condition that may cause the accumulation of secretion in the lungs, breathlessness, persistent coughing, and damage to the functions of the heart and lungs.
Conditions such as fall into this category include:
Angina
Post-acute myocardial infarction (post AMI)
Post coronary artery bypass graft (post CBP)
Percutaneous coronary intervention (angioplasty/ stenting)
Tuberculosis (TB)
Chronic Obstructive Pulmonary Disease (COPD)
Heart failure
Hypertension
Bronchitis
Bronchial asthma
Pulmonary fibrosis
Other than the conditions listed above, , the population who will benefit from cardiopulmonary physiotherapy includes people who experience weight issues, frailty as well as those who may be preparing for surgical procedures. Although they may not have existing lung and heart conditions, cardiopulmonary physiotherapy can aid in the prevention of developing serious conditions and allow higher recovery capabilities for such patients.
Tailored Interventions to Attain Enhanced Recovery and Optimal Cardiopulmonary Fitness
Essentially, cardiopulmonary physiotherapy  are interventions to rebuild and optimise the functions of our heart and lungs. Patients who suffer from symptoms of heart and lung diseases don't have to live with the limitations or restrictions of activity due to breathlessness and fatigue, let's dig into this!
While the core of the CP rehab is exercise training, a variety of techniques such as stress management,education on risk factors and lifestyle( e.g. smoking cessation and diet), psychosocial support are also part of a comprehensive CP rehabilitation.. Most of these recommendations require individually tailored plans targeted at the patients' unique circumstances and personal capacities. Some common examples include:
Different kinds of breathing techniques to improve breathing patterns and increase lung capacity
Chest physiotherapy – percussion and vibrations to induce secretions removal and prevent secretion retention in lungs.
Manual, clinical massages to enable ease of breathing without the inhibition of pain.
Endurance exercises and training that build overall wellness levels and cardiopulmonary fitness.
Generally, after a comprehensive and in-detailed assessment, your physiotherapist will be able to set achievable treatment goals for you. During the active practice of these treatments, your physiotherapist will provide proper education and guidance on how to work towards overcoming the limitations of your activities, offering dedicated support throughout the process from different aspects. Ideally, these efforts will help you attain better cardiopulmonary fitness levels following a consistent CP rehabilitation program. Whether it is to increase chances of recovery, reduce the number of hospital admissions or increase your general functional capacity, cardiopulmonary physiotherapy can help you regain your independence and quality of life .
The positive effects of physiotherapy are aplenty and well documented. According to a review of literature regarding physiotherapy's impact on asthmatic persons, the main findings concluded that cardiopulmonary physiotherapy improves disease specific quality of life especially for young children with asthma. As cardiopulmonary fitness is strengthened through physiotherapy and the physical training that comes with it, there is a marked reduction in asthmatic symptoms and reliance on medication.
Relevance of Pulmonary Physiotherapy in the Current Social Climate 
Exceptionally important during this COVID-19 pandemic, where some of the patients exhibit symptoms of long covid such as pneumonia, persistent dry coughing and respiratory distress, pulmonary physiotherapy techniques can act as a significant preventive measure to reduce these symptoms.
Furthermore, regular engagement in respiratory physiotherapy can also help with stress-related disorders such as hyperventilation during anxiety attacks, acute shortness of breath, improves your mental health overall as well as reducing exacerbations of symptoms.. W
Let Rapid Physiocare Help
Registered with Allied Health Professionals Council (AHPC), our crew of experienced physiotherapists are capable of providing you with cardiopulmonary physiotherapy tailored to your condition. Should you require more professional advice on how to better manage any relevant health conditions, you may arrange for a consultation at our clinics in Singapore for a detailed response on individual cases.
Whether you require post operative physiotherapy or help in maintaining a fitness programme, by leveraging the expertise of our specialists, we can curate personalised programmes to meet your specific needs.
For any questions and additional information, please feel free to contact us through WhatsApp, email or phone.