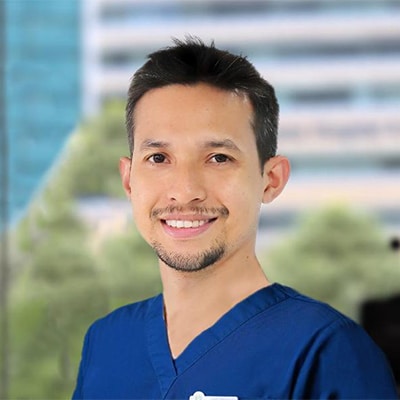 Zaki Hairodin
SENIOR PRINCIPAL PHYSIOTHERAPIST,
SENIOR ASSOCIATE DIRECTOR
Zaki is Available
Zaki is the current lead of Rapid Physiocare Paya Lebar branch. He is an Australian trained Physiotherapist with a wealth of experience and a passion for helping individuals recover from musculoskeletal injuries. He graduated with a Bachelor of Physiotherapy with Honours from La Trobe University in 2008 and further pursued his academic journey by being awarded a post-graduate scholarship to complete his Masters in Musculoskeletal Physiotherapy from the University of Melbourne in 2013.
With over 14 years of extensive experience, Zaki has worked in both public hospital and private clinic settings, where he has assisted numerous clients in their journey towards recovery. His expertise lies in addressing musculoskeletal injuries, such as neck and back pain, shoulder, knee, and ankle sprains. Additionally, he has guided clients through rehabilitation following sports and orthopedic surgeries, including ACL reconstruction, shoulder rotator cuff repair, ankle ligament reconstruction, fracture fixation, and various others.
Zaki is well-versed in employing a range of treatment techniques tailored to meet the unique needs of his clients. He is certified in Manual therapy, Clinical Pilates, Kinesio-taping, and Dry Needling. To further enhance his skills, he completed the prestigious "Go-To" Therapist Mentorship from ProSport Academy based in the UK.
A firm believer in a collaborative and patient-centered approach, Zaki strives to achieve successful outcomes by working closely with his clients. He places great value on assessing patients holistically, identifying movement impairments that contribute to their symptoms, and prescribing individualized hands-on treatment and corrective exercises. This comprehensive approach aims to improve pain symptoms, enhance overall function with gradual loaded exposure, and prevent the recurrence of injuries.
Zaki's personal experience with an ACL injury has further fueled his dedication to his profession. Having undergone a successful ACL reconstruction and rehabilitation himself, he understands the challenges his clients face. Despite this setback, Zaki continues to enjoy playing football recreationally. In addition, he maintains an active lifestyle through resistance training in the gym and finds joy in activities such as swimming and running.
With Zaki's extensive knowledge, practical experience, and commitment to patient care, he remains steadfast in helping individuals recover, regain functionality, and lead fulfilling lives free from musculoskeletal limitations.