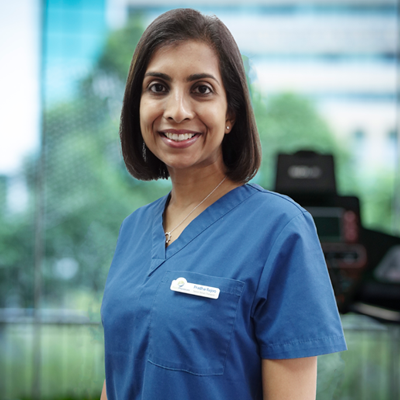 Pradha Rajoo
SENIOR PRINCIPAL PHYSIOTHERAPIST
Pradha is our Senior Principal Physiotherapist. She graduated with a Bachelor of Physiotherapy from Melbourne, Australia in 2004. She later specialised in MSc (Advanced Cardiopulmonary Physiotherapy) from the prestigious University College London (UCL) in 2008.
She is an AHPC recognised physiotherapist with over 17 years of working experience.Having worked in Tan Tock Seng Hospital for 12 years and the NHG Polyclinics for 5.5 years, she has a strong interest in helping people in need and takes great pride in doing so.
One of her biggest achievements would be working with the Surgical ICU team in TTSH to pioneer the early mobilisation program. This helped to reduce deconditioning of patients in the ICU. This project was so successful that it was implemented in the other ICUs. Apart from working in the ICU, medical/respiratory/surgical wards, Pradha has conducted cardiac rehabilitation, pulmonary rehabilitation, and vascular rehabilitation and weight management classes. Along with her experience, her soft and empathetic nature caters to even the most complicated patients.
One of Pradha's greatest strengths is her versatility. Having worked in NHG Polyclinics, she is well versed in treating musculoskeletal problems as well. She is a strong believer in holistic care.
Over the many years in public healthcare, she's been a clinical educator to many students and coached many junior and senior physiotherapists. Given her approachable nature, and all rounded experience, she's always had excellent feedback from her students and peers.
Pradha always keen to keep up to date with latest evidence and practice in physiotherapy. Given her enthusiasm and passion for physiotherapy, she has been invited to multiple conferences to present on physiotherapy related topics.
Her motto is, "We should not merely exist. We should live our lives to the fullest".Hence, she believes in helping her patients to achieve their best potential so that they can live their lives to the fullest.
ACHIEVEMENTS
Visiting Physiotherapist at Tan Tock Seng Hospital (Oct 2022-ongoing)
Presented at Singapore International Physiotherapy Congress on "Physiotherapists as diagnosticians

A primary care perspective". (2021)

Certified in DMA Clinical Pilates. (2019)
SIT Physiotherapy -Clinical Education Coordinator and Clinical Education Lead at NHGP (2017-2022)
Appointed as TTSH Allied Health Services (AHS) Quality – Assistant Manager (2013)
Featured in 'Straits Times' and 'LianheZaoBao' show casing efforts in early ICU mobilisation (2013)
Faculty member of Singapore TRAUMA Conference. Presented on "Early mobilisation after trauma". (2012)
Presented at Singapore Health & Biomedical Congress on "Simulation in Physiotherapy".(2012)
Awarded HMDP Fellowship to Johns Hopkins Hospital (Baltimore, USA) and University of California, San Francisco to further knowledge on early ICU mobilisation. (2011)
Led a multidisciplinary team to designing and implementing an effective ICU Early Mobilisation Program that is used currently in TTSH to reduce length of ICU stay. (2011)
Faculty member of Singapore TRAUMA Conference. Presented on "Journey to normalcy after trauma". (2010)
Received scholarship to Harvard University (USA) to learn about application of simulation in medical field. Pioneered the Simulation in Physiotherapy education in TTSH. Developed curriculum and educated junior physiotherapists to suctioning technique and preparing them for ICU using simulation technology. (2010)
Presented research study at NHG Annual Scientific Congress. Won Best Oral Presentation Award. (2009)
Appointed as Deputy Unit Head of Physiotherapy Cardiopulmonary Team at TTSH (2009- 2016).
TTSH ICU Committee Member (2009 –2016).