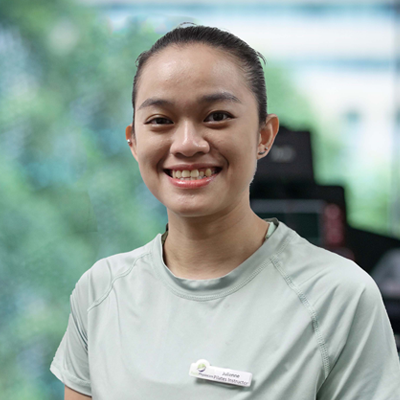 Julienne Ng
PILATES INSTRUCTOR
Julienne is Available
(Tue/ Wed/ Thursday /Saturday)
Julienne lives by the quote "Physical fitness is the first requisite of happiness." By Joseph H. Pilates. Her ethos is that we should move to nourish our bodies adequately rather than to abuse them.
With her deep knowledge and passion in Pilates training, she has rendered great help to clients with condition such as diastasis Recti, knee pain, back pain, osteoarthritis, plantar fasciitis, scoliosis and more.
Julienne has guided her clients to move with ease and fluidity through efficient and well-balanced sequences, aiming to leave them feeling strong, mobile and energized – celebrating the body for the powerhouse that it is. Her clients will leave the clinic feeling reborn and stronger.
As an avid trail runner, Pilates enabled Julienne to find deeper connection, strength and flexibility within her own body. Wishing to assist and enable others to cultivate their own body awareness, she attained her qualification as a certified Pilates instructor in Comprehensive Studio Pilates.
Since then, she has been constantly seeking out challenges in her clients from all walks of life, aiming to maximize the potential of every client at their own pace. She is passionate about safe and effective movement and wants people to reconnect with the most important thing we have, our mind and body.
Certified in Comprehensive Studio Pilates (Polestar Pilates, USA)
Diploma in Holistic Massage (ITEC, UK)
Diploma in Sports Massage Therapy (ITEC, UK)
Certified Fitness Instructor (FEA, Malaysia)