Hip Trochanteric Bursitis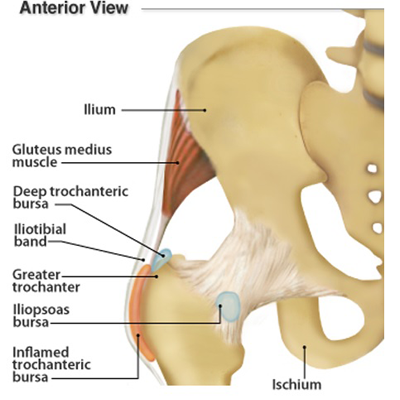 Bursitis is the painful swelling of bursae. Bursae are fluid-filled sacs that cushion your tendons, ligaments, and muscles. When they work normally, bursae help the tendons, ligaments, and muscles glide smoothly over bone. But when the bursae are swollen, the area around them becomes very tender and painful. Trochanteric bursitis affects the outer point of the thigh bone, the femur, at the edge of the hip. This bony point is called the greater trochanter. Another bursa called the iliopsoas bursa is on the inside of the hip. Inflammation of the iliopsoas bursa causes pain in the groin.
Bursitis does not only happen in the hip. It can also occur in the shoulder, knee and elbow joints. Bursitis may be acute (short-lived) or chronic (long-lasting).
What are the symptoms of hip trochanteric bursitis?
You have pain on the upper outer area of your thigh or in your hip. The pain is worse when you walk, bicycle, or go up or down stairs. You have pain when you move your thigh bone and feel tenderness in the area over the greater trochanter.
Acute bursitis usually flares over hours or days. Chronic bursitis can last from a few days to several weeks. Chronic bursitis can go away and come back again. Acute bursitis can become chronic if it comes back or if a hip injury occurs.
Over time, the bursa may become thick, which can make swelling worse. This can lead to limited movement and weakened muscles (called atrophy) in the area
What Causes Trochanteric Bursitis?
The trochanteric bursa is normally caused by repeated compression of the bursa resulting in inflammation and pain. It is usually associated with weakness of the gluteal muscles, particularly gluteus medius, that results in a Trendelenburg gait pattern that is a sign of hip muscle weakness.
Besides repetitive use and muscle weakness, several things can lead to hip bursitis, including the following:
Rheumatoid arthritis

Gout, pseudo gout

Injury of the hip

Diabetes

Spine problems, such as scoliosis

Uneven leg lengths

Bone spurs (bony growths on top of normal bone) on the hip
The good news is that muscle weakness and Trendelenburg gait can be reversed by an appropriately progressed exercise protocol. The exercises prescribed should be focused on retraining your specifically weak muscles. This is important since different gluteal and hip rotator muscles are strengthened by different exercises.
What can I expect from a physiotherapist?

Physiotherapy is often recommended for treatment of pain and dysfunction associated with the hip bursitis and tendinitis. The physiotherapist will evaluate your mobility, flexibility and strength with the purpose of determining the underlying cause of the abnormal stress on the hip. Then you will be counseled on which activities you can safely continue and which should be avoided. The physiotherapist will teach you the proper exercises to reduce stress on the hip. In most cases this will include strengthening muscles about the hip and knee that are weak and stretching ones that are tight.