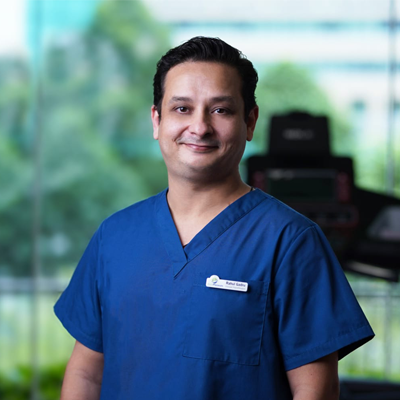 Rahul Gadru
CLINICAL DIRECTOR,
SENIOR PRINCIPAL PHYSIOTHERAPIST
Rahul is available
Book your Appointment here
Rahul Gadru is a highly skilled and accomplished physiotherapist with a wealth of experience in the field. He holds a Master's degree in Sports Physiotherapy (2001), and an Advanced Diploma in Physiotherapy from Singapore (2009). With over 20 years of clinical and teaching expertise, Rahul has established himself as a leader in the physiotherapy community and he currently serves as Rapid Physiocare's clinical director to ensure the delivery of high clinical competency with mentoring program for physiotherapists, apart from managing a daily caseload of patients.
During his tenure at Tan Tock Seng Hospital (TTSH), one of Singapore's premier acute hospitals, Rahul served as the lead physiotherapist of the Pain Management clinic and played a crucial role as a senior member of the outpatient musculoskeletal clinic. He managed acute musculoskeletal conditions and vestibular conditions in the Accident and Emergency Department. Rahul's passion lies in pain management and the effective treatment of acute and chronic shoulder and spine-related disorders.
Beyond his clinical duties, Rahul excelled in mentoring and patient management audits in the outpatient department, demonstrating his commitment to professional development and the provision of high-quality care. He also served as a team auditor for safe manual handling skills, ensuring a safe and secure environment for both patients and staff.
Rahul's dedication to enhancing his skills led him to complete advanced-level certification in dry needling, further expanding his treatment repertoire and  actively pursuing professional development.
Noteworthy achievements include completing the prestigious Future Leaders Program at NUS Business School in February 2023, demonstrating his commitment to personal growth and leadership development. Rahul has been recognized for his excellence with various awards, including the Allied Health Educators Award in 2018, receiving the "NHG Clinical Educators" award in 2016. Furthermore, Rahul obtained the Advanced Certificate in Training and Assessment (ACTA) in 2016, reflecting his dedication to educating and training future generations of allied health professionals.
Rahul's passion for education is evident through his roles as a faculty member at NHG College, where he facilitates workshops aimed at improving mentoring skills among allied health professions. He also serves as an adjunct teaching faculty member at the esteemed Lee Kong Chian School of Medicine since 2018, imparting his extensive knowledge to aspiring healthcare professionals.
Additionally, Rahul has presented posters at numerous international and local conferences, including IFOMPT (UK) and APMEC (Singapore). These contributions showcase his commitment to advancing the field of physiotherapy.
Rahul's exceptional performance and dedication were recognized early in his career when he was awarded the overall "Best Clinical Trainee" by the Ministry of Health Holdings (MOHH) for the PTAP program in 2009. Furthermore, he received accolades as the best clinician for the neurology module of the Advanced Diploma in Physiotherapy, demonstrating his exemplary clinical skills and expertise.
Rahul Gadru's exemplary track record and unwavering commitment to patient care, education, and professional development make him a highly respected and sought-after.
ACHIEVEMENTS
Received allied health educators award 2018 "outstanding "& in 2015 under "merit" category.
Received "NHG clinical educators" award in 2016.
Faculty Member NHG college – facilitating various workshops to improve mentoring skills among allied health professions.
Adjunct teaching faculty Lee Kong Chian School of medicine.
Presented Posters at various International and local conference IFOMPT (UK) and APMEC (Singapore) to name a few.
Awarded the overallbest clinical trainee award by Ministry of Health Holdings (MOHH) for PTAP program 2009.
Awarded the best clinician for the neurology module of Advanced Diploma in Physiotherapy