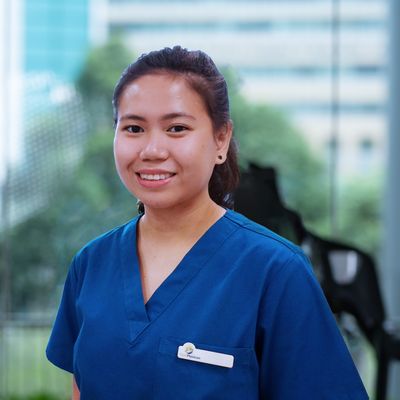 Nur Diana
PHYSIOTHERAPIST
Diana is Available
Book your Appointment here
Diana graduated from the Singapore Institute of Technology -Trinity College of Dublin with a Bachelor of Science (Honours) in Physiotherapy. She has experience working with people of all ages who have musculoskeletal, respiratory, and neurological conditions.
Diana has a special interest in musculoskeletal conditions, due to her avid sporting background of competitive basketball, football, floorball, and swimming. She enjoys keeping active with cycling, running and regularly goes to the gym for weightlifting. With a growing appreciation for weight training, she incorporates techniques and forms training into her practice when seeing patients to improve functional outcomes. Her passion for cooking also makes her an excellent advisor of healthy diets to ensure optimal recovery.
Diana believes in the importance of managing patients holistically. She spends time explaining to her patients about their conditions and takes pleasure in addressing any queries or concerns, as she understands how patient empowerment through education enhances recovery. She is well versed in pain management strategies and modalities, giving her that added advantage of supporting her patients through the tough times and enabling them to transition smoothly back to daily living and activities.
As an advocate for lifelong learning, Diana enjoys keeping up with the latest evidence-based research. She continually upgrades her skillset through training and endeavors to deliver only the best in her treatment.