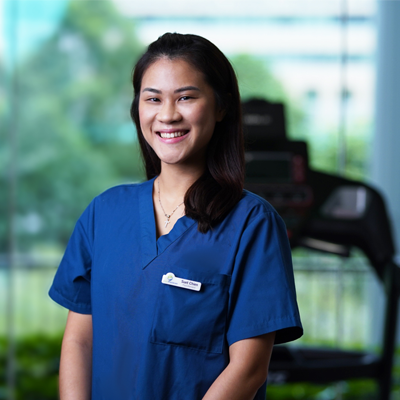 Suet Chien Chong
PHYSIOTHERAPIST
Suet Chien is available
Book your Appointment here
Suet Chien has graduated with a BSc (Hons) in Physiotherapy Science. She has gained experience working in government hospitals, treating people of all ages with musculoskeletal, respiratory, and neurological conditions. Her skills, along with her caring attributes and passion, allow her to effectively help her clients achieve optimal function and return to an active lifestyle. Her treatment techniques are aimed at relieving pain, improving functional mobility, strength and coordination.
In addition to being a Physiotherapist, Suet Chien is a certified Stott Pilates instructor. With the combination of fitness and rehabilitation through core strengthening and dynamic stretching from Pilates, she can help her patients with their injuries and be pain-free.
She believes Pilates can be gentle and challenging at the same time. Pilates is suitable for everyone with different levels of fitness and it can be tailored to each individual's needs, goals, and progress.
Apart from being a gym junkie, Suet Chien also attends high-intensity interval training (HIIT) classes as well as spinning and yoga. Her perspectives have been broadened through her fitness journey and she is a confident clinician who understands her clients by heart. Her strong desire to help people has paved her way to improving the lives of others.