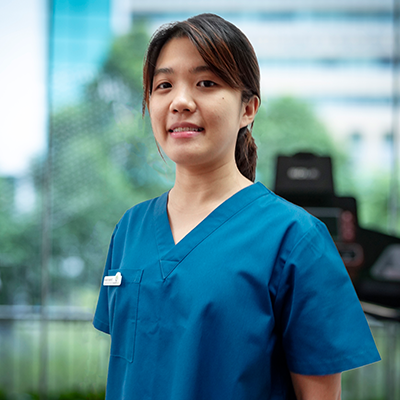 Amanda Tham
PRINCIPAL PHYSIOTHERAPIST
Amanda is Available
Book your Appointment here
Amanda is a musculoskeletal physiotherapist specializing in orthopedic conditions, including spine and peripheral, post-surgical rehabilitation, and sports-related injury. She completed her Bachelor of Science (Physiotherapy) and Master of Clinical Physiotherapy (Musculoskeletal Physiotherapy) at Curtin University in Australia. Amanda also serves as a clinical lead in the team.
Amanda has over eight years of experience working in public and private settings. She commenced practice as a physiotherapist at Singapore General Hospital. In her five years at SGH, she gained valuable experience by seeing various categories of patients, ranging from acute and chronic musculoskeletal conditions, orthopedic post-surgical conditions, and geriatric and oncology patients. During her time in Australia, Amanda was also involved in providing home-based physiotherapy services to elderly patients with neurological disorder and musculoskeletal injuries.
Amanda's area of interest lies in treating spine cases including the management of Adolescent Idiopathic Scoliosis. As a certified ISST-Schroth therapist, she is passionate about working with teenagers with scoliosis. She believes in the use of evidence-based methods to halt the progression of the scoliosis curvature. She is also certified in Clinical Pilates as well as trigger point dry needling.
Amanda strongly believes that a good strength and conditioning base is key to individuals across all fitness levels. She also believes in practicing patient-centered treatment tailored and aligned to each and every patient's specific goals.
Outside of work, she enjoys going to the gym, baking and photography.