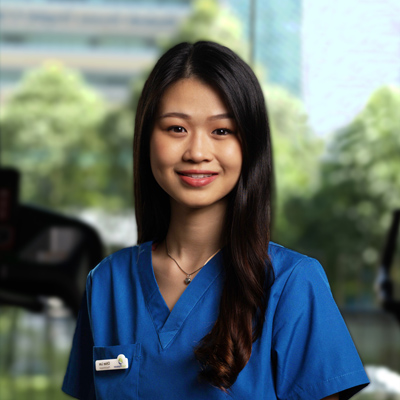 Chloe Lee
SENIOR PHYSIOTHERAPIST
Chloe is available
Book your Appointment here
Chloe is an AHPC certified physiotherapist who has completed her Bachelor Honors of Science in Physiotherapy from INTI International University, Malaysia. Her strong academic track made her one of the few Merit Scholarship holders in Malaysia.
Chloe has gained experience working in a few reputable government and rehabilitation hospitals. She started off her physiotherapy career path in private practice and has encountered a vast array of clinical conditions throughout her six-year career including orthopedics, post op conditions, musculoskeletal, geriatric, cardiopulmonary, neurology, and sports related injuries.
As a certified DMA Clinical Pilates™ Clinician, she has the power to transform patients' lives through precise movement patterns. With a keen eye for detail and a knack for correcting movement imbalances, Chloe uses clinical Pilates to enhance her holistic patient care approach. Chloe's dedication to helping athletes excel led her to complete the Running Repair course. She helps runners to recover from their injuries including shin splints, Achilles tendinopathy, acute stress fractures, patellofemoral pain and hamstrings injuries.
Chloe strongly believes that movement is medicine and precision is the key to correct movement patterns hence her interest lies in the impact of exercise on lifestyle. Her clinical approach to holistic patient care involves performing a comprehensive clinical examination and formulating a diagnosis with the associated causative impairments. With that, she practices active rehabilitation along with manual therapy, therapeutic exercises, and education to provide personalized evidence based intervention that drives results.
Outside of her professional endeavors, Chloe's personal life is a testament to her commitment to an active lifestyle. She embraces the great outdoors, immersing herself in thrilling activities and embracing new challenges. Whether she's pumping iron at the gym, finding inner peace through yoga and Pilates, or pounding the pavement with her running shoes, she practices what she preaches: movement is medicine.
"To educate is to empower," Chloe declares, firmly believing that sharing knowledge enables individuals to understand their bodies better. With her unwavering passion for her career, she goes above and beyond, striving to add life to her patients' years rather than simply adding years to their life.