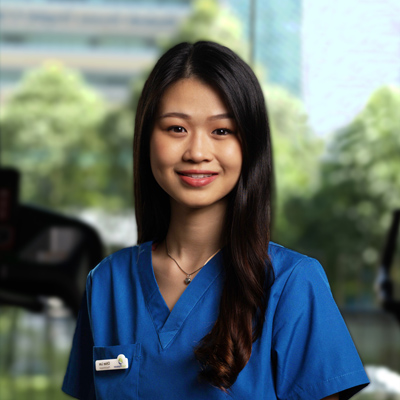 Chloe Lee
SENIOR PHYSIOTHERAPIST
Chloe is available
Book your Appointment here
Chloe is a certified physiotherapist who has completed her Bachelor Honours of Science in Physiotherapy from INTI International University, Malaysia. Her strong academic track made her one of the few Merit Scholarship holders in Malaysia. Chloe has gained experience working in a few reputable government and rehabilitation hospitals. She has dealt with an extensive range of clinical conditions including orthopaedics, musculoskeletal, geriatric, cardiopulmonary, neurology, and sports related injuries. She started off her physiotherapy career path in private practice and has been in the line for 3 years.
Chloe strongly believes that movement is medicine and precision is the key to correct movement patterns hence her interest lies in the impacts of exercise on lifestyle. Her clinical approach to holistic patient care involves performing a comprehensive clinical examination and formulating a diagnosis with the associated causative impairments. With that, she practices active rehabilitation along with manual therapy, therapeutic exercises, and education to provide personalized evidence based intervention that drives results.
As an advocate of an active person, Chloe enjoys outdoor activities and keep to her exercise program of circuit training, running, yoga, weight lifting, badminton and frisbee. She enjoys keeping up with the latest evidence-based research with a lot of reading to improvise her knowledge in treatment.
"To educate is to empower" she added, as it implies that knowledge sharing enables one to understand their body better and with her immense passion in her career, she constantly reaches for the extra miles in helping her patients to add life to years not just years to life.